For those unaware, Sled (or Sledge) Hockey is the version of our game that exists for those with disabilities that would prevent them from skating in a normal hockey environment.  Instead of skating, players use a sled and two hockey sticks with picks on the end to pull themselves around the rink.  In addition to their traditional Ice and Inline platforms, USA Hockey also supports sled Hockey and even sends a U.S. National Team to the Winter Paralympics.  However, given that hockey in its traditional form is such a niche sport, you can well imagine how much more difficult it is for those who would be interested in sled Hockey to get into the game.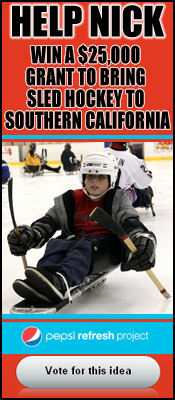 GO VOTE FOR NICK AND FOR SOCAL SLED HOCKEY!
To that end, 10 year old Nick Jenkins, born with spina bifida, and his mother Christie have started a sled hockey organization in southern California, the first of its kind in the area.  It is also one of the very few options for such activities for those people who have a disability that prevents them from playing most traditional sports.  Backyard-Hockey.com has the full story on Nick and the creation of SoCal Sled Hockey, but the thing you need to know is that just like normal hockey, sled hockey is expensive.  To try to get this program off the ground, the Jenkins family entered SoCal Sled Hockey into the Pepsi Refresh Everything project, seeking a $25,000 grant to make the program into a reality, allowing them to buy proper sleds and protective equipment, as well as ice time.  
To help them get this grant, all you have to do is visit this link or the one above to go to their page on the Refresh Everything project.  On the right side, click "Vote For This Idea", and sign in automatically using your Facebook account.  The top 10 ideas get their funding, and this is currently sitting at #20.  You can vote once per day, every day, until Nov 30.
How else can you help?  Share the info on your own Facebook page or via your Twitter feed - the hockey community may be relatively small, but we are a fantastic community.  Visit or follow the SoCal Sled Hockey Facebook page,Twitter page, or MySpace page.  Rec this post, or post it to your own blog.  Share the info at your own local rink.  If you or your friends would be interested in playing, let them know, because without players, the organization dies.  As fans of the game, we all have a responsibility to support the game, on all levels, on all platforms.  Join the cause and help out a unique part of the grassroots hockey culture.