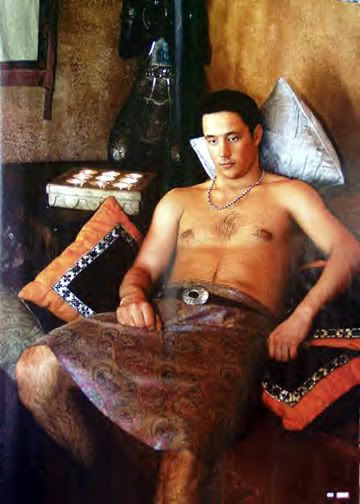 The first of which is, I don't really know if I think Kovalchuk fits in the Terry Murray system, and beyond that, I don't know how much I care. But it's possible he might not fit and I might care a lot. Don't know. Second disclaimer: you might think that Kovalchuk at a $6MM cap hit is dreaming. You might be right. Here's my math:
10 years, $60MM. Salary in millions from 2010-2019: 11, 11, 10, 7, 6, 5, 4, 3, 2, 1. He can be the highest paid player in the league for three years. Kings can have a livable Hossa/Nash-like cap-hit, and he can retire in seven years and go to the KHL (if it still exists).
Third disclaimer: the deal is Brown and Johnson, plus a prospect and some picks for Kovalchuk. You could expand the trade to include a fourth liner to help us this season, but what I'm looking at here is cap numbers for 2010-2011, and so I'm ignoring the extra ATL player aspect of the potential pie-in-sky deal. Why Brown and Johnson? Well, my reasoning is essentially that Brown is in the middle of his second sub-par season in a row and yet, with the Olympics coming up (and his newly announced alternate-captaincy), his stock has probably never been higher. Johnson, also Olympic-bound, has been a mixed bag. Both have nice affordable cap-responsible contracts. Both would be good PR for ATL. Hey, wait, maybe I'm offering too much!
Doesn't matter. We're really looking at cap numbers. And for the cap numbers to work, the Kings have to send some salary back. Will Waddell take Handzus and Frolov instead? I doubt it like I doubted Lombardi could get Smyth for Quincey and Preissing. Adjust your figures accordingly.
Disclaimer #4: I re-signed Frolov at a cap-hit of $3.9MM. You might think he's seeking $5MM or something. Unless he's about to go on a goal-scoring binge, he ain't going to get it.
[UPDATE: some more thoughts on the cap situation for next year vis-a-vis which players you re-sign and which you don't: in this model I traded Brown and re-signed Frolov. If you trade Frolov and keep Brown, the cap figures are roughly the same. I also re-signed Jones. I think this is a reasonable move (since he's been hugely successful for the Kings thus far -- the Kings record with him in the line-up is excellent). But if you don't sign Jones, you're going to have to bring in someone in that salary range. All the d can't be minimum wage rookies.
The other thing I did was assume Schenn will make the team and will have a bonus structure in the neighborhood of Hickey and Doughty. I think this is a necessary assumption.
You might also decide that trading Johnson is a mistake; I think this every other time I re-read this post. But if you try keeping him (and, say, throwing prospects at ATL instead), it pushes us over the cap ceiling. So you have to get rid of someone else who makes Johnson money or better. And that's a list of people no-one wants to lose. So, the bottom line is, you have to get rid of at least a Brown/Frolov salary and hope that you can sign IK to a Hossa-ish cap figure of $6MM.
If he is to get anything approaching $10MM as a cap hit -- and I don't think DL will go for that -- that's another $4MM player you have to lose. Personally, I think it becomes dicey at that price, but the package would undoubtedly be two of Frolov, Brown, Handzus, Stoll or Williams, otherwise the numbers simply don't work. And yes, this factors in all of the players whose contracts expire. If you look at the chart (right), you'll see there's no Purcell, Ivanans, Harrold, O'Donnell or Cloutier.]
The point is, as the chart (generated by capgeek of course) shows, it's doable under the cap.
And here are the opening night lines:
Kovalchuk/Kopitar/Williams
Smyth/Stoll/Simmonds
Frolov/Handzus/Parse*
Clifford*/Schenn*/Moller*
(swap with Richardson, Loktionov as F13, F14)
Scuderi/Doughty
Jones/Greene
Drewiske/Voynov (or Hickey, I don't care)
Muzzin (sub your favorite big mean person, e.g. Teubert)
Quick/Bernier