Prospects
Wednesday's Development Camp Notes and Pictures
I went to dev camp on Wednesday and it was everything I expected it to be.
Since the Calder Cup Champions are getting a little R&R due to their now shortened summer, some of the better/more interesting prospects are not present at development camp. But I went anyway.
Partly due to living 36 miles away and partly due to LA's wonderful traffic patterns (i.e. the 405 sucks always), I missed the first half of practice, so I didn't get to see Jonny Brodzinski or Valetin Zykov, which is kind of a bummer because apparently Zykov has taken on some kind of leadership role.
I did get to see the defensemen and the goalies at work, though, including the Kings' first selection at the most recent draft, Erik Cernak.
There's honestly not much to report on development camp. It's really just drills, group huddles and the coaches instructing individual players to work on certain things.
Zac Leslie was on the ice with the other defensemen, though he was wearing a red, (presumably) no contact jersey while the rest were in black or white sweaters. Leslie had season-ending shoulder surgery back in March. He had impressed at last year's training camp and made a strong case to stay in Manchester, but was eventually returned to juniors due to the over abundance of defensemen already there, including Nick Ebert and Jeff Schultz among others.
With Colin Miller going to Boston as part of the Milan Lucic trade and Andrew Bodnarchuk leaving the organization as an unrestricted free agent, Leslie will have a better opportunity to compete for a starting spot on Head Coach Mike Stothers' blue line.
If Cernak, the young Slovakian who was selected in the second round, 43rd overall) impresses at training camp, there is a long shot that he could wind up in Ontario (remember, there is no limit to the amount of players that can be on an AHL team, but logic should prevail given the number of playing spots available). The big defenseman was not playing pro in Slovakia so the Kings may opt to send him to the Eerie Otters, who own his CHL rights after selecting him 55th overall in the CHL Import Draft.
Alex Lintuniemi and Alex Roach both stood out -- literally. They were easily the biggest among their peers and Lintuniemi is the only blond (at least of the blue liners). That's saying something considering most of the defensemen present were 6'1 or more. Camp invitees Dominik Tiffels and Jonas Mueller are listed at 5'10 and 6'0 respectively, while Leslie is listed at 6'0. It seems LA likes size among its defenders.
Anyway, here are some terrible quality phone pictures and videos of the two drills I saw them work on.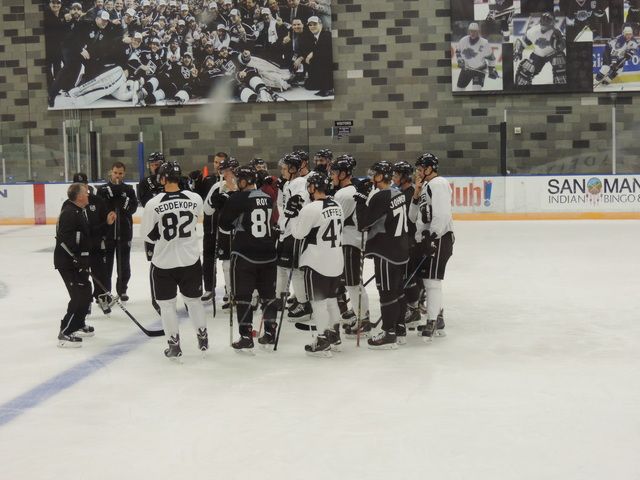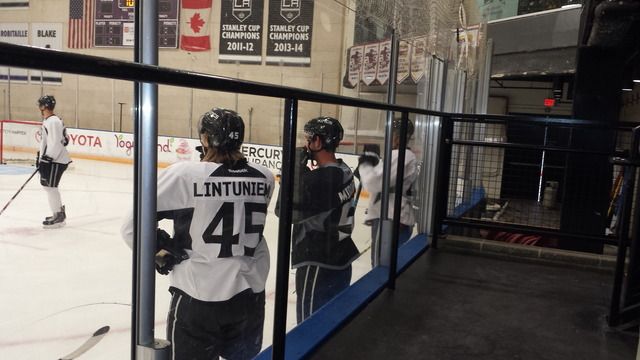 Passing and receiving now #LAKings development camp pic.twitter.com/s2YWn7ZTZK

— *~*~*~*~* (@jollywhiskey) July 8, 2015
More passing and receiving pic.twitter.com/t00ELupO1f

— *~*~*~*~* (@jollywhiskey) July 8, 2015
So those were some pictures of the defensemen. Up next: goalies! And mysterious faces in the crowd (no, literally, these guys have no name plates or numbers on their jerseys or helmets).
When I first saw Alec Dillon on the ice, he reminded me a lot of Martin Jones and then my heart broke a little when I remembered he's no longer with the Kings. Tear. Anyway.
Up next: goalies pic.twitter.com/rVv2GI2Nh7

— *~*~*~*~* (@jollywhiskey) July 8, 2015
BC boy and future @EdmOilKings puck stopper extraordinaire @adilly96 pic.twitter.com/4qDwidqO5g

— *~*~*~*~* (@jollywhiskey) July 8, 2015
Love this green get up pic.twitter.com/D9XXAC2Iq1

— *~*~*~*~* (@jollywhiskey) July 8, 2015
Discussing the side-to-side shuffle drill pic.twitter.com/89QyZlrfdE

— *~*~*~*~* (@jollywhiskey) July 8, 2015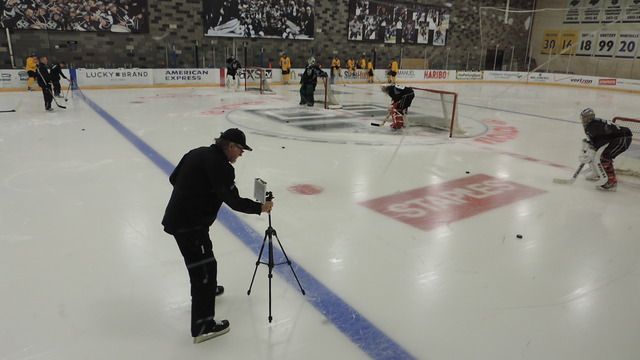 Side steppin' pic.twitter.com/tBwXxET0cG

— *~*~*~*~* (@jollywhiskey) July 8, 2015
1-2 step pic.twitter.com/D4QepOhItZ

— *~*~*~*~* (@jollywhiskey) July 8, 2015
After the shuffle drill, the goalies broke into two groups to work on one-timers, rebounds and cross-ice passes. I mostly focused on Dillon because 1) he was closer and 2) he's a prospect in the Kings' system, so I was curious about him. Plus I get better camera angles from the right.
Thanks for reading and looking at my crappy pictures! If you want to see more videos and blurry photos, click here to view the album.